User Guide
A complete tutorial regarding how to use GoSurvey. We have covered and explained everything related to the working of GoSurvey and its features.
How to set filters?
Filters allows you to tag survey response with data that can be used for filtering and segmentation. You can set filters by level or hierarchy. e.g. Filter Level 1 : State, Filter Level 2 : City, Filter Level 3 : Store Name To set the filters please follow the below steps:
Step 1:
Click on the Filters option from the left panel to add the filters to the account.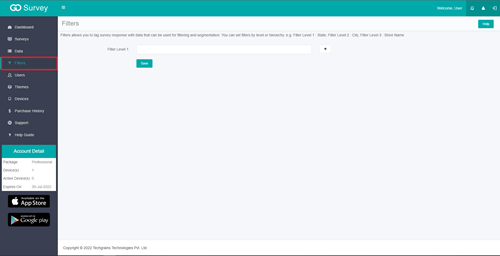 Step 2:
Upon clicking you will arrive on the filters screen. You will be asked to create filters level. Depending on your requirement, you can create different levels, for example- You want to collect data about retail stores in different cities of different states. So, here there will be 3 filter levels- State, City and Stores.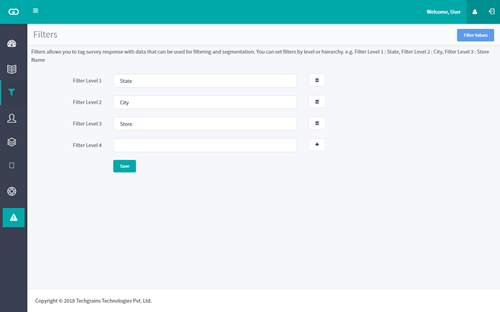 Step 3:
After completing the filter setup, click on the Filter Value option present on the top-right corner of the screen. You will be directed to Filter Values screen where you can define values for your set filters.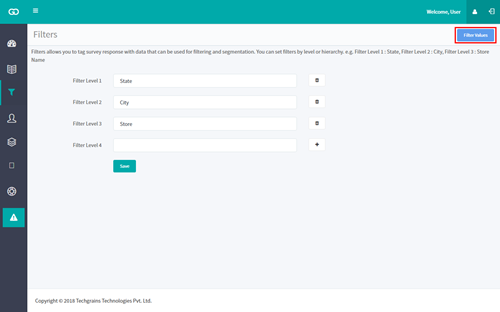 Step 4:
Click on the All State option, after which you can enter value for your state, like here- State Name 1, State Name 2, State Name 3.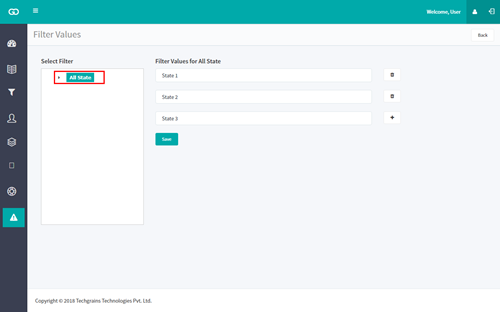 Once the State values are set, you can move ahead with entering the values for city. To do this you need to click on the State Name 1, you will be asked to enter the City Names. In this example, we set 3 values for City- City Name 1, City Name 2 & City Name 3 as shown in the figure below.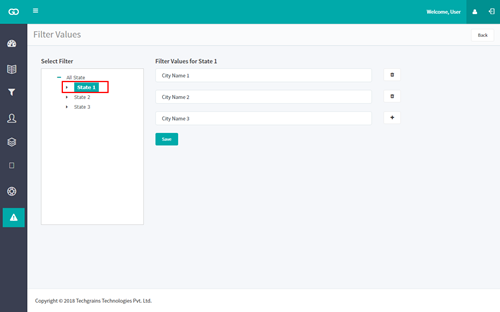 After setting the City values, you will now want to add the stores values. Repeat the same steps as for the above, by clicking on the City Name 1, you will be asked to enter the stores. Here, we set 3 values for stores- Store Name 1, Store Name 2 & Store Name 3 as shown in the figure below.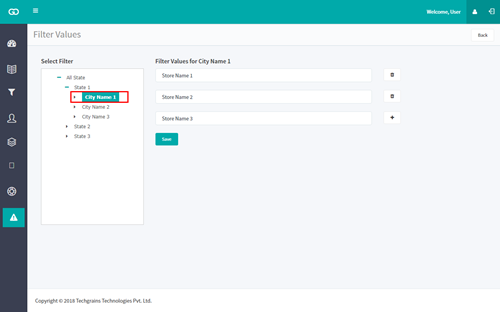 Similarly, values can be defined for more States, Cities and Stores.