User Guide
A complete tutorial regarding how to use GoSurvey. We have covered and explained everything related to the working of GoSurvey and its features.
How to use page options?
Step 1:
Create a survey. For detailed information, review "How to create a survey?"
Step 2:
At the bottom right, there is a 'Page Options' dropdown button before 'Save'.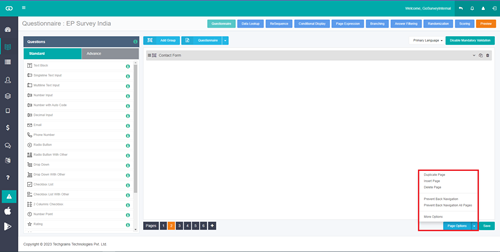 On clicking the 'Page Options' dropdown menu, the user will see various options with respect to pages like 'Duplicate page', 'Insert page', 'Delete Page' and 'Prevent Back Navigation' options for current or all pages and More Options.

Duplicate Page - This will create a duplicate of the current page with all the questions.
Insert Page - This will add a new page before the current page.
Delete Page - This will delete the current page.
Prevent Back Navigation - This will disable the 'Previous' button of the current survey page and won't go back to the previous pages. Helpful to have spontaneous responses by the respondent on certain questions placed on the survey page.

Prevent Back Navigation All Pages - Will disable the 'Previous button' on all the survey pages.
Step 3:
More Options will show 2 options - Page Width and Page Duration.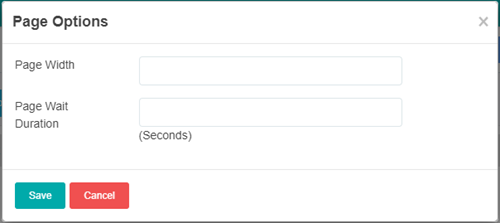 Page Width - Only shows if the survey in use is a web survey. It is useful to fix the page width of the survey page since the web survey can be opened in various ways, on different devices with different sizes.

Page Wait Duration - Enter the time (in seconds) for the Next or Finish button to remain disabled, letting the respondent enter responses in a given time without moving to the next page.
Additionally, there's a functionality called "Record Page Time" which once enabled for a survey, can help the user to get the duration spent by respondents on a specific page.
Follow the steps below to understand how:
Go to the 'Surveys' section. It will show the list of all surveys created in the account. Click on the survey title where the user wants to enable 'Record Page Time'.

In the 'Edit Surveys' section, it will show all the fields that the user may need to select. Here, the 'Record Page Time' checkbox is placed at the bottom right side.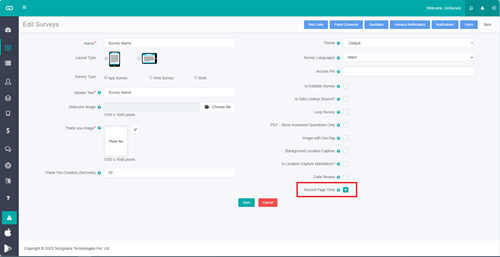 Click on the 'Record Page Time' checkbox to enable recording the page duration spent by the respondent.
The user can test it out by submitting responses and checking any individual data by clicking on the eye button at the left in the responses section.