User Guide
A complete tutorial regarding how to use GoSurvey. We have covered and explained everything related to the working of GoSurvey and its features.
Why can't I upload data from the device?
When device is connected to the Internet, GoSurvey applications uploads the data automatically to backend dashboard(admin.gosurvey.in) as soon as the form get submitted. If your data are not being uploaded please check below scenarios.
1. Offline Device
Check whether your device is connected to internet or not. If your device is not connected to the internet, then the collected data will get stored safely in application memory in your device and won't get uploaded to the backend dashboard until it gets connected to the internet.
2. Auto Upload Off
If your device is connected to the Internet but your data is unable to upload automatically to the dashboard, then kindly check whether Auto Upload is ON or OFF, from your GoSurvey application settings.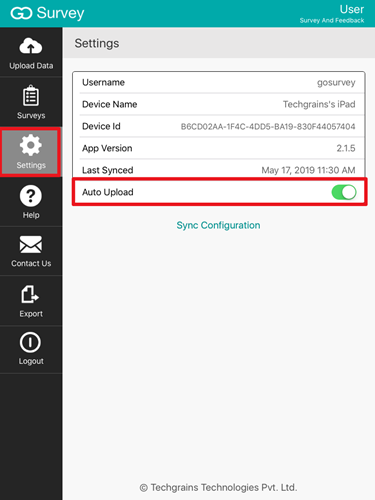 3. Large Media 
If your survey forms contains media questions like Photo Capture, Audio Recording or Video Recording, then its size will affect the uploading process, the larger the size of media, the slower will be the process. To avoid such delays, reduce the camera quality of the device, this will reduce the size of the media.
4. Device in Sleep Mode 
While uploading the data, if your device get into sleep mode, it might interrupt the uploading process. So turn off the auto sleep mode from the device during the data uploading process.
If still you are not able to upload your data in spite of all the above scenario true then kindly get in touch with us by raising a Support Ticket from your GoSurvey admin account.