User Guide
A complete tutorial regarding how to use GoSurvey. We have covered and explained everything related to the working of GoSurvey and its features.
How to configure Scoring?
GoSurvey allows you to give scores to the questions. This scoring helps the user to analyse the performance based on the scores given to the particular area/group/department. To configure scoring to the survey, follow the below steps:
Step 1:
Login to your GoSurvey account with your username & password which you have set while creating the account.
After login, it would show the dashboard.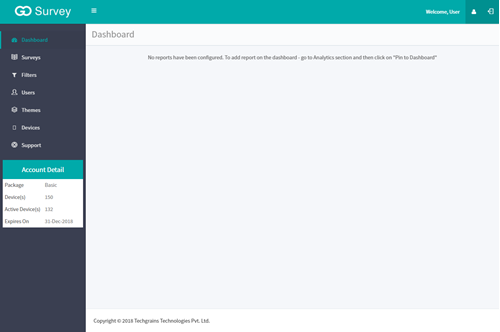 Step 2:
Click on the Survey link on the left panel.
The list of surveys will appear which the user has created. The survey will show different information, such as - Name, Layout type, Responses,etc.
To configure the scoring click edit survey.
Click the Questions button on Survey screen. You will see a Scoring button on the top right corner.
On clicking the Scoring button a screen will appear to configure scoring to the survey.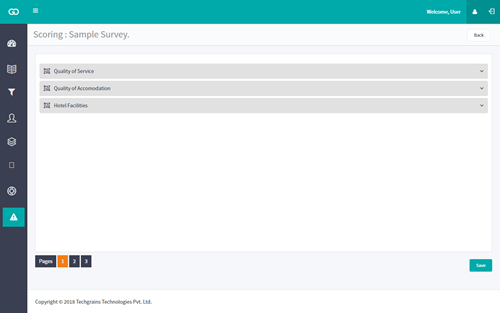 Expand the group or question to give the scores respectively. The scores can be given to the radio grid, radio options and 5 star questions only.
Make sure to select the question to give the scoring, user can also give negative scoring if required.
User will have to add the values manually according to the requirement.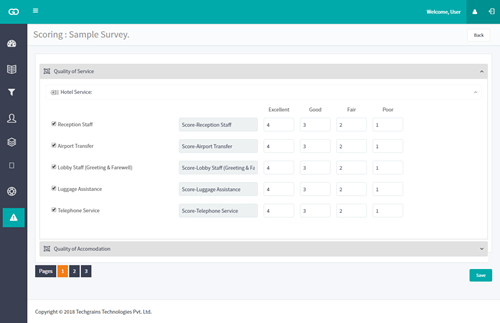 Step 3
Once done with scoring questions, click on the Save button to save the configuration.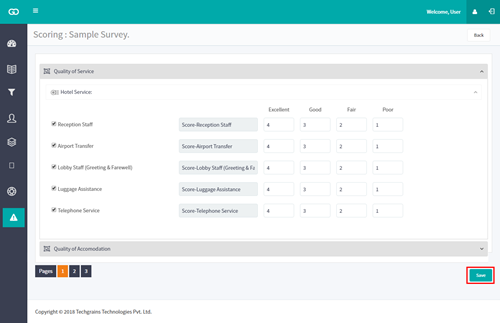 The data which the user collects will automatically calculate the scoring of the question and will give the report.