User Guide
A complete tutorial regarding how to use GoSurvey. We have covered and explained everything related to the working of GoSurvey and its features.
How to configure multi language survey
To configure the multiple languages survey questionnaire please follow below steps.
Step 1
Given that the 'Survey Language' feature is enabled in your GoSurvey account. On logging in, it would show at the left panel.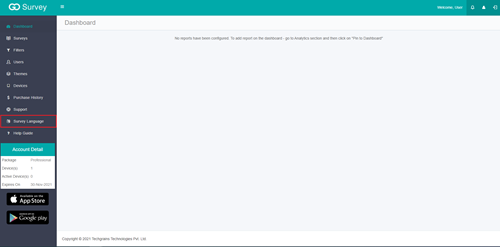 Step 2
Click on the Survey Language option from the left panel to add the desired language of your choice to the account and Save it.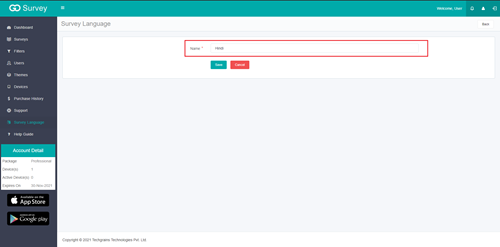 Now, click on Surveys on the left panel and Click on Create Survey button for a new survey or click on a specific survey from the survey list screen where the chosen language has to be configured.
On the Create Survey page, you will find a dropdown option - Survey Languages as shown in the below image. Select the desired language(s).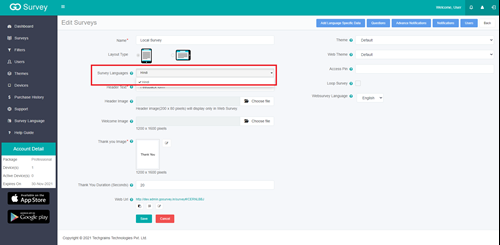 You will be asked to enter your survey name, header text and theme, once entered, click on the Save option and you will arrive at the Questions screen.
Step 3
Here select the question type you wish to include for the first question.
You'll see a dropdown option appear on the top row next to Disable Mandatory Validation, where you can see the Language option. For now, let it be 'Primary Language' i.e.,  any language that you are using as default to setting up your questionnaire. Make sure it is not included in the "Survey Languages" selection.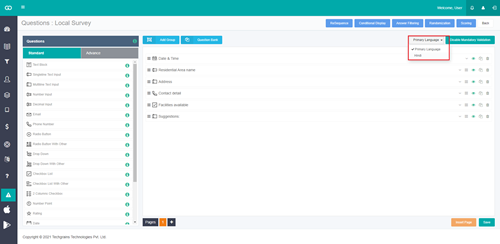 Configure the questionnaire by entering all your questions, once it's done, save and publish it.
Step 4
Now, change the Primary Language dropdown to the listed language.
Then for each of the questions and options, make the necessary translation change in the selected language.
As an example here, the selected language is "Hindi". So, please click on the question's settings (at the end of every question there is one down arrow, by clicking on that the settings section of question will open up) and enter the Hindi translation of the question and the options. Once done, save and publish it.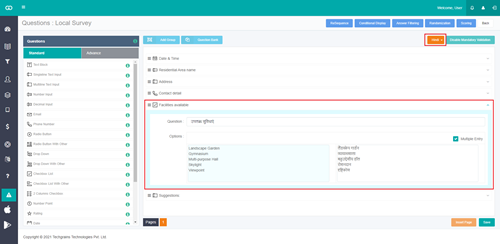 Step 5
Now while using the GoSurvey application in mobile or tablet devices, click on the Settings button on the left side panel and change the Survey Language from Primary Language to the desired language.