User Guide
A complete tutorial regarding how to use GoSurvey. We have covered and explained everything related to the working of GoSurvey and its features.
How to resequence a question?
Resequence feature helps to move any particular question, group or page from its current position without deleting anything. It saves lots of time and avoids reworking.
Following are the steps to resequence a 'Question':
Step 1:
Create a survey. For detailed information, review "How to create a survey?"
Step 2:
On top right of the Question configuration screen - you will see a Resequence button.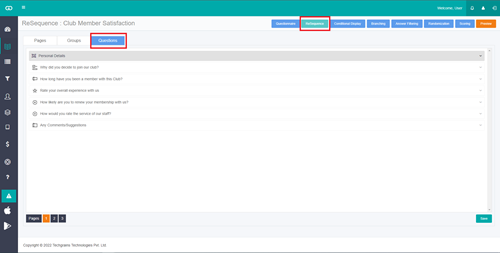 Click on it and you will see options to move page, group or individual questions. Select any of the options as per your requirement.

Step 3:
Select 'Questions' from the above available options.
Step 4:
Here you will see the Questions available on the first page. If the required questions are on another page select the particular page from the bottom.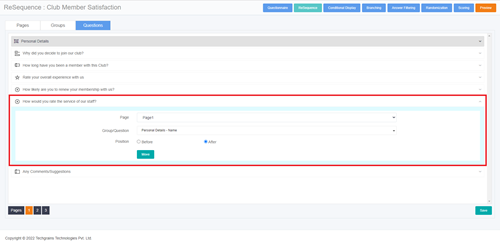 Step 5:
Once a question is selected click on the drop-down option from the right side of the particular selection. Here you will see 3 options available - Page, Group/Question and Position.
Select the Page no (if survey contains multiple pages) from the drop-down list on which you want to move the question, after that select the targeted Group or Question on that particular page.
Lastly select the position previous to the targeted Group/Question or next to the targeted Group/Question. Once position is decided click Move and Save the changes.
Similarly, a 'Page' or a 'Group' can also be resequenced.
Lastly, save and publish the questionnaire.