User Guide
A complete tutorial regarding how to use GoSurvey. We have covered and explained everything related to the working of GoSurvey and its features.
How can I edit my inaccurate data?
Gathering or collecting data may be a cumbersome task when it comes to conduct a field survey. This may also lead to incomplete or invalid or inaccurate data in some circumstances. So, Gosurvey has brought a new feature "Advance Export" where the user can edit the collected data if he/she finds the response inaccurate.
At present GoSurvey allows to export the responses in three formats i.e
Export to SPSS(.sav)
Export to Excel
Export to CSV
PDF
One more component is also there to the rundown i.e "Data Edit". This feature can be advantageous to the companies or organizations such as market research or survey companies. At times a user can face the issue of unsuitable data collected by the field survey team, so in order to avoid such things user can edit the data and can upload it back to the account.
Step 1
Login to the GoSurvey admin site by using the same credentials that were set while creating the account. Once logged in, click on the Surveys menu.
Step 2
Click on Responses of the particular survey whose data needs to be edited.

Step 3
A screen will show up which will display the responses collected by the surveyor.

There will be Export button on the top right hand side. Click on Export button further it will show options in two blocks - Data Export & Data Edit.

To edit the data, click on Export under the heading Data Edit. The responses will be downloaded in the .xlsx file.
Once the file is downloaded, the user can edit the responses. Open the file and update the response data. Note: Please refrain from making any modifications to the data contained in the initial two rows.
Once the data is edited in xlsx file, click on Import from the Export -> Edit and choose the same Excel file that is having your edits.
Important points to kept in mind to upload the edited responses.


GoSurvey will support only the .xlsx file to export or import the data.
No changes should be made in the questions or headings or first 2 rows i.e ID, Date Collected, User and questions. If by mistake, a user has done some editing in these columns, GoSurvey will restrict the file upload in the admin.

User can also delete the responses from the account:


To delete the response , click on 'X'  to remove the response collected.
Only one response will be deleted at a time.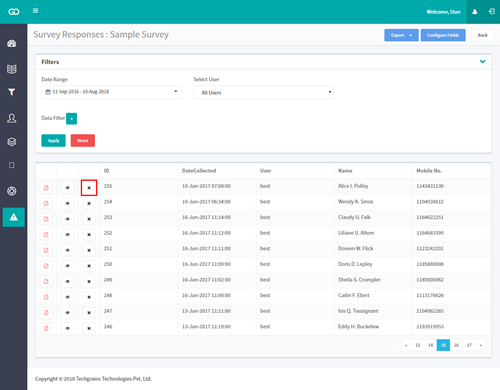 Note: This feature is not included in the package, in order to use this feature please contact us to get it enabled.