User Guide
A complete tutorial regarding how to use GoSurvey. We have covered and explained everything related to the working of GoSurvey and its features.
How to conduct online survey?
Web surveys have been proved very beneficial in terms of taking feedback online. Respondents can give the feedback at their convenience. They can use it on web browsers using devices like, Mobiles, tablets, laptop/PC. Web Surveys are user friendly and work great. It can be used in various industries such as hotels & restaurants, resorts, real estate, HR, hospitals, education etc.
Once the Web Link feature is enabled, follow the below steps to get the web link of the survey.
Step 1:
Login to with your username & password which you have set while creating GoSurvey account.
After login, it would show the dashboard.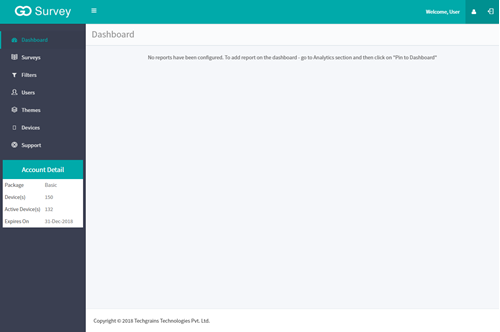 Step 2:
Click on the Surveys link at left hand side panel and select the particular survey from the survey list.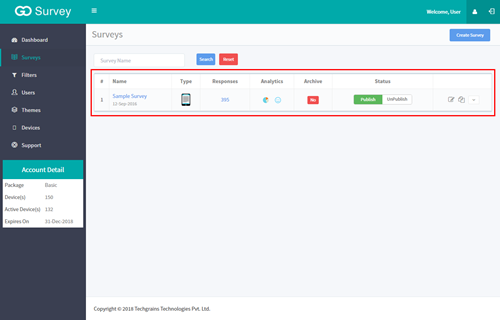 Step 3:
Once you select the survey, below screen will be displayed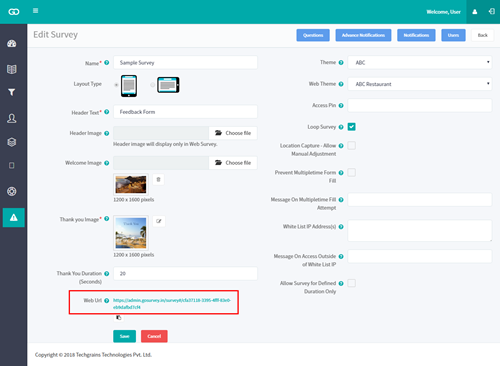 Once the questions are added and the survey is published , the system will automatically generate the web survey link.
You can copy the link or can send it to your target audience via email or SMS as required.