Looking for an effective platform to grow your business?
Well, your answer is "Trade Shows".
Trade shows have become the most driving medium to achieve more business by reaching out to customers and making a mark for yourself in the industry. Trade shows have constantly seen growth in the past few years and is expected to see more. It is not only an amazing B2C platform but also a great B2B platform. They set a stage to establish collaborations beneficial to both parties.
57% of attendees rank B2B exhibitions as either the first or second most valuable resource.

Trade shows have a massive visitor footfall that help in collecting the most number of leads, which is otherwise difficult through any other medium. However, collecting so much data and managing it has always been a big challenge faced by all. Especially in trade shows where the designated area is mostly a small booth and the number of employees attending to visitors are also a few. It becomes difficult to pitch more visitors, get their contact information, sell your product in the defined area.
To be trade show ready, you have to ditch those manual methods for various purposes to make it a success event for your business. You merely have 3 minutes to showcase what you've got! Short isn't it? From capturing leads to giving apt information about your product, you need tools that can pace up your process.
Let's discuss 6 features in apps which can help you maximise output from trade shows.
1. Lead Capturing
Needless to say, the primary purpose of any business is to capture leads. If you can't get this part correct then all your future outcomes from a trade show won't have the expected result. Lead capturing should be fast, accurate and the first line of attack in a trade show.

GoSurvey understands the ROI a business expects from trade shows and to help you collect leads effectively, our trade show lead capture app that works offline and doesn't requires an internet connectivity to operate it. Not only this way of collecting lead information is fast but it's accurate too. The data collected is safely stored in the device and when you've an active internet connection all your data is synced to the cloud or server and you can easily access it.
2. Tracking Schedules
For any company, presenting at trade shows can be a big task. Apart from the trade show itself, travel and accommodation arrangements need to be made. A shift needs to be set up for employees in case of multiple trade shows. If the organisation is big with an active sales team, it can often be a headache to arrange everything.
56% of trade show attendees travel more than 400 miles to attend an exhibition.

Apps come with a feature that helps in tracking schedules. All the travel schedules and accommodation schedules can be entered in the app, which will automatically notify employees of their agenda including accommodations, travel and other appointments. Staff members can request changes as per their needs through the app that can be considered by their managers.
3. Communication and Collaboration
Between all the chaos of trade shows, employees need to pass important communications that might be difficult in person. Apps for trade shows come with group messaging platforms so staff members can keep in touch with each other.
Apart from this, consider a scenario where you have multiple product or service. You never know which visitor would like to know about which of your product or service. If you collect visitor information all at one place, it will be difficult for you to segment them later. With GoSurvey, you can set predefined conditions where contact information of each lead for a particular product or service will direct to the concerned person.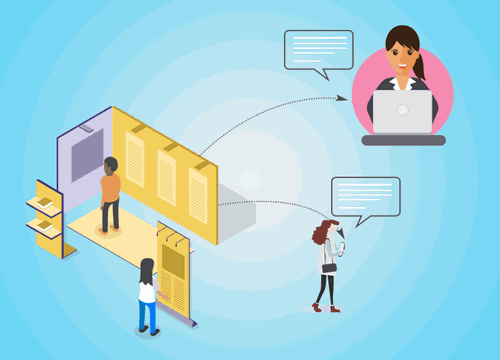 For Ex.
Mr. Alan is interested in knowing about product X and Mr. West in knowing about product Y. You can set condition in a way where the trade show team when selects product X with Mr. Alan's details, the backend team gets Mr. Alan's details and when selecting product Y, the backend team gets Mr. West's details.
This is what we call lead routing and this unique feature has helped numerous businesses maximise output from trade shows. Here's how we are making lead capturing apps smarter!
4. Follow-up Leads
Offline Survey Apps come with a feature of displaying product information. As trade shows provide a limited area to set up a booth, it is important to make the best of the space. Paper catalogues consume more space and add extra weight to carry around. They can be displayed on kiosks at the booth or in tablets. It allows visitors to navigate through different products, brochures, videos, etc. Companies can even send these brochures as emails to customers for their perusal. This is an absolute must-have for trade shows as it helps in marketing their products in an effective way.
5. Real-Time Updates
Trade show apps come with a real-time feature that allows organisations to track happenings in real-time. You can access the number of visitors at the booth, numbers of leads captured, shifts of employees at the booth, individual performance of employees and much more in real-time. 
6. Visitor's Feedback
It is crucial to know the feedback of visitors . Companies must keep a track of the experience of their visitors to establish level of customer engagement.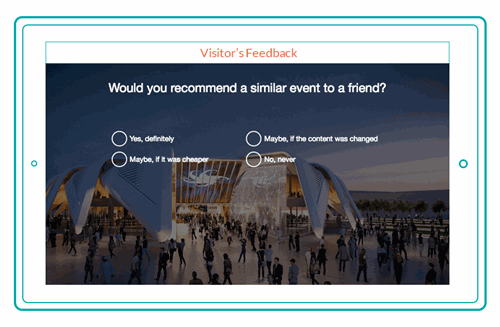 This helps in building the brands image and tells the brand about what visitors think about them. Trade show apps allow organisations to gather feedback from their visitors. They help in making the most interaction possible in less space.
Apart from all this, fun and creative interactions add to the visitor engagement experience. Visitors are more likely to favour companies where they have a good experience. So, make sure you craft the perfect digital experience at booths at trade shows to impress visitors and stand out from your competitors.