"Everyone takes surveys. Whoever makes a statement about human behavior has engaged in a survey of some sort." - Andrew Greeley
Did you know that Karnataka began an e-feedback system back in 2016, where a mobile app would let students rate the performance of their teachers after each class?
Or that the "Education Augmented Reality and Virtual Reality (AR & VR)" segment is set to grow by a whopping 82 percent from 2018 through 2021 according to the Observer.
Or that by 2020, customer experience will overtake price and product as the key brand differentiator.
As diverse as these facts may seem, they're closely related on the education spectrum. Let's understand how.
To begin with, the education sector is clearly lagging behind when it comes to adapting the digital revolution. A recent IBM survey brought to light some staggering facts: 61 percent respondents feel higher education in India is slow in responding to the changing social demands and needs, 59% said the system doesn't maintain relevant curriculum whereas 52% feel the teaching resources are insufficient.
Adding fuel to fire are the problems of inability to improve monitoring and evaluation of quality of education being provided, dropping attendance rates, poor infrastructure, and increasing teacher attrition rates. As a result, more and more educational institutions are looking at reliable ways to connect with their stakeholders - be it the students, the teachers, the parents, and the community at large - involved and understand how to make the system more efficient and accountable.
Secondly, whether it's customer experience or student/teachers interactions, everyone today feels the need to access personalized service and individualized attention. This is where education surveys emerge as a clear winner according to popular vote.
There are various kinds of surveys that educational institutions can undertake. It could be format-related by way of quizzes, polls, and tests. Or it could be topic-specific like Course evaluation surveys and Graduation/University Exit surveys or Student-Teacher Evaluation surveys and School Climate surveys.
Clearly, there are lots of options to choose from. So let's take a look at the various advantages educational institutions can leverage by engaging with an interactive, adaptive feedback mechanism or commonly known as "surveys" today.
Why Should You Consider a Survey?
1. Open, Honest Feedback Paving the Way for Quality Data
Challenges:
Often, students don't communicate their feedback due to fear of being punished for airing concerns or they just feel that their opinion doesn't matter. This is where designing an effective survey can come in handy.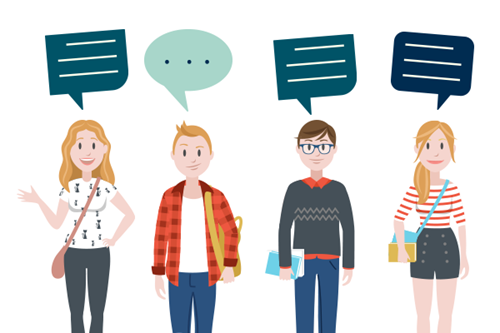 Solution:
Due to its anonymous nature, surveys are perfect for privacy-seeking students, adults, or even teachers. These powerful tools give them the space to air out concerns while offering in-depth insights into their way of thinking - characteristics even prestigious institutions like IITs, IIMs etc. can benefit from. It also enables a healthy dialogue with the students - clear signs of a system fostering good practices. On the education front, it helps improves the quality of education and courses being provided, enhances teaching methods and processes, and helps everyone understand the learning environment at large in a school/college.
2. Holistic Development: The Student's Perspective
Challenges:
Understanding student's concerns about the teaching quality or campus safety is of prime concern for every institution today. This is where surveys come into play.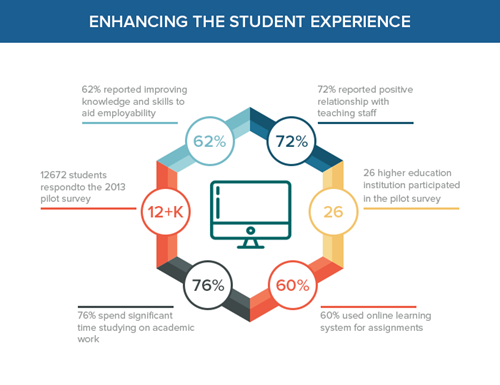 Solution:
Surveys have manifold benefits. They help enhance the efficiency of course structure, provide insights into the levels of student satisfaction, and act as a means whereby students can share their experiences in a transparent manner. They provide teachers the ability to make modifications to their teachings in real-time. Additionally, schools/colleges can send questionnaires to parents at home for a deeper understanding of their student's habits and their home environment.
Using these inputs, they can achieve predefined academic goals that are holistic and in sync with the university's overall objectives. It goes without saying that an intrinsic approach towards feedback gathering is what's missing from a majority of the institutions' agenda today. If you're looking to achieve a comprehensive student well-being, undertaking surveys should be your first step.
3. Improved Educational Outcomes: The Teacher's Perspective
Challenges:
Often, institutions focus on understanding the student's feedback and pay little attention to their second backbone - the teachers. Yes the student's opinion matters, but so does the teacher's voice. There are multiple issues that the teachers face on a daily basis - from understanding how supportive the management to getting a sense of their satisfaction level with the facilities, incentives, and pay being provided, every little detail counts.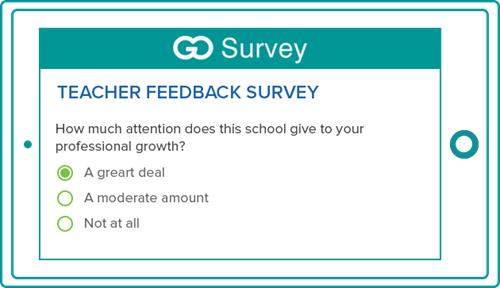 Solution:
Simply put, surveys also help track teacher satisfaction and understand their view points regarding the leadership management.
So how does this help?
Basically, it ensures that the teachers stay happy, engaged, and satisfied so that the institution can benefit from a high-quality staff that is as loyal as it is qualified.
4. Seamless Operations with an Informed Decision-Making
Challenges:
Today, a lot of time and energy is being spent on the wrong reasons in educational institutions. This may be due to the absence of a feedback mechanism that tracks progress of students, faculty performance, and quality of educational standards being provided.
Solution:
Surveys bring all the participants in an educational ecosystem on the same page and help drive operations smoothly and effectively. This carves out greater time for the management to drive innovation in terms of the quality of education being provided or the technical infrastructure lacking.
Simply put, they can invest their time and resources into understanding how to jump on the digital bandwagon and revolutionize the way student-teacher lessons take place to start with. One example, would be the rising popularity of online learning programs.
5. Strategic Focus on Parental Engagement: The Parents/Guardians Perspective
Challenges:
One of the most overlooked yet most important contributors of the ecosystem, parents/guardians can be actively involved in the educational process.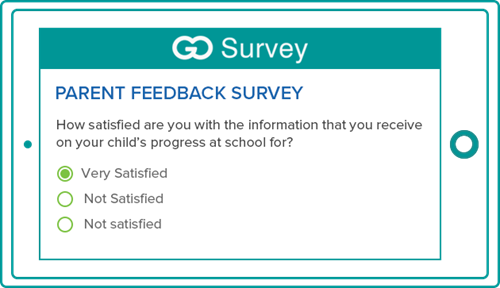 Solution:
Research suggests that the parental attitude impacts academic performance. So it is important to keep this segment in mind at all times - before, during, and after the survey. The primary objective of parental surveys should be to communicate how the students are faring while keeping them abreast of the latest developments at the school/college. An informed parent/guardian can turn out to be a big asset for the institution.
To summarize: Addressing the interests/concerns of students, teachers, and parents can help them feel that their opinion is being valued and their suggestions are being acted upon. This will ensue a long-term relationship between the educational institution and its most valued assets - the people that inhabit it day in, day out. This also helps create a positive word-of-mouth and helps maintain the standard of education to its maximum potential.
"Model" Survey: Important Pointers to Keep in Mind
From schools and colleges to management institutes and State universities, everyone needs to constantly be on the path of self-improvement and enhancement - integral components that surveys can help achieve. But before that, let's deep dive to understand the factors to keep in mind before executing a survey:
Define goals/purpose clearly and that too, beforehand so that the project's success can be measured.

The following questions can help initiate the process of understanding your goals:
Who is your target audience? Is it the teachers? The students? Or the parents? (Try addressing a single type of audience for impactful results).
What are you trying to figure out?
Why are you trying to figure out the issue?
What kind of data are you looking for and what will you do with the data once the survey is complete?
Surveys & Feedback: The Alma Mater of Every Educational Institution Today
It must be clear by now that lending an ear and a voice to the various partners of the education landscape, educational institutions can understand the school's climate, the student's attitudes & beliefs, and the effectiveness of the learning environment. In addition, it also helps promote a more supportive, healthier system of working while aiding institutions in keeping a pulse on their target audience.
So let's leave you with this school of thought : Survey simple and survey often - towards a smarter tomorrow!