Every business has one plain motto – Grow their customer base and retain their existing customers. And, the key to achieving this is through customer satisfaction. So, what is Customer Satisfaction exactly?
What is Customer Satisfaction?
In simple terms, it is about knowing if a customer is happy with your brand or not. The primary factors that build customer satisfaction are mainly Quality, Reliability, Service, and Efficiency. Yes, you might have a great product offered at a competitive pricing. However, everything relies on customer experience nowadays. If your customer is not satisfied, then that's no retention. It might lead to bad word-of-mouth decreasing your current customer base as well as the scope of gaining more customers. It is imperative to build brand loyalty to retain customers. Let's see why customer satisfaction is vital for businesses?
Importance of Customer Satisfaction
Companies spend a lot of time, money and effort in building a product, and bringing it out in the market. However, if they do not concentrate on customer experience, their efforts are all in vain. A happy customer always returns and to make sure if the customer is happy, knowing how satisfied they were with the product and service is extremely important. Unhappy customers will spread their unhappiness and decrease the brand's customer base.
With increasing competition across industries, customers have so many options. It will not take them much time to jump from one brand to the other. Customers will opt for the best service in the market. While, for the brand, it becomes necessary to focus on retaining existing customers by making sure that they are satisfied. And, this can only be achieved through effective customer satisfaction surveys. It will help establish a positive customer interaction that will further lead to customer loyalty.
Here's how customer satisfaction surveys can help businesses create loyal customers
1. General Feedback
Surveys can help companies get general feedback on their product and what the customers feel about it. These surveys should be deployed to customers immediately after the sale or at the sale counter to ensure any issues that the customer has faced can be dealt with. Companies can use this feedback to build marketing strategies and correct anything the customers find wrong with the product or service. 
2. Building Brand Loyalty
Customers are always happy when companies value their feedback and concentrate on customer satisfaction. A happy customer always returns, no matter how many other options are out there. Customers do not mind spending a little more if they are satisfied with the brand. Not only will they return, but also likely to spread positive word of mouth that will help the business gain more customers. Brand loyalty is extremely crucial for any company.
3. Improves Customer Experience
Surveys show the customers that the company cares about their experience. Customers opinion highly impacts brand value, be it a positive one or negative. These responses are used to build strategies to improve customer experience. By contacting unsatisfied customers and addressing their issues, there is hope of retaining that customer. Certain steps can be taken to do some immediate damage control like offering the customers with vouchers or discounts, etc. In this way, surveys can help in improving customer experience.
4. Stand out from Competitors
Customers do extensive research before buying products. The brands should be willing to go that extra mile to exceed their customers' expectations. Sometimes, one negative statement about the brand is enough to change their mind. Customer satisfaction surveys help brands in differentiating them from their competitors as you're taking an effort to know your customers and giving them a better experience everytime.
5. Builds a Positive Brand Image
Brand image is perhaps the deciding factor when a customers makes a purchase. Customer satisfaction makes sure that a positive image of the brand is built. A satisfied customer will always speak positive words that can be used by the brand as testimonials to promote their brand image.
6. Net Promoter Score
By adding NPS in customer satisfaction surveys, companies know the number of customers who are likely to return and spread a good word about them versus the number of customers who might negatively impact the brand. As per a study, companies are more likely to witness a 10% growth rate by measuring NPS.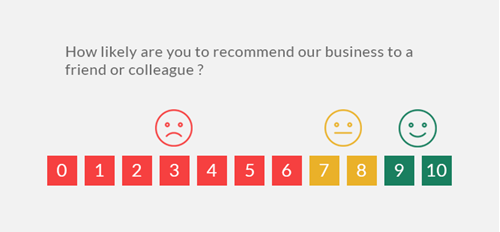 Moreover, customer satisfaction reflects in the revenues of any business. It indirectly reflects the satisfaction of the employees and a satisfied employee is more productive. Therefore, it is increasingly important to conduct customer satisfaction surveys to ensure a happy customer and a growing business. Also, retaining customers has been observed to be more cost-effective than getting new customers. 
Need help with creating these essential customer satisfaction surveys? GoSurvey can help!

GoSurvey is a one-stop destination to all your survey needs. Having catered to many clients across various industries, GoSurvey has helped companies by creating customised Surveys that meet all their requirements. We bridge the gap between brands and their customers by creating interactive surveys that help in building a positive brand image.