Who does not like to go out for a peaceful vacation or have a nice dinner at a restaurant on a Saturday night? The answer is everyone! We all need a break from the monotonous routine lives. Traveling and eating outside has become a huge part of our lives. But, imagine having a bad experience during this break. It simply ruins everything!
What is the Hospitality Industry?
All these hotels, restaurants, resorts, homestays, airlines, cruise ships, etc belong to the largely growing hospitality industry. This industry is primarily driven by service given to customers during a stay, or travel, a meal they come out to eat. With an increase in consumer purchasing power, more and more people can afford to travel and visit places. On the other hand, the rise in tourism also helps in the growth of the hospitality industry. Let's see the progress made in this industry over the years.
The Growth of Hospitality Industry
The primary factor for the growth of this industry has been its customers. During any time of the economy, customers have continued to use services of the hospitality industry. This industry plays a huge role in the total contribution of a country's GDP.
Statistics show, this industry has observed an enormous growth globally. In the United States of America, the travel and hospitality industry hit closely around $1.6 trillion in 2017.
Talking about the Indian hospitality industry, the number of foreign tourists in India stood at 10.17 million. Whereas, 2018 witnessed 2.12 million merely up to February. The total contribution made by this industry towards the GDP was 208.9 billion in 2016 rising by 6.7 percent in 2017. In February 2018, foreign exchange of $2.706 billion was obtained merely from the tourism sector.
Following is a graphical representation of the contribution made by the hospitality industry to the nation's GDP over the years.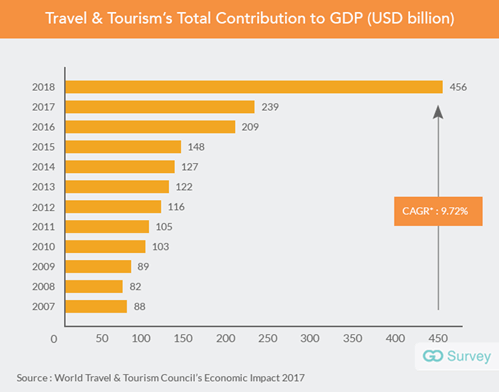 With such enticing numbers, investors easily get attracted to this industry. Due to this, there is more and more competition amongst each other in the sector. Companies are thriving to be the best to increase their profits.
How can a company in the hospitality industry stand out from the others? Well, the answer is simple. By making sure that your customers are satisfied. 
But, how would you know if the customers are satisfied? This is where Customer feedback becomes crucial for any organisation.
Importance of Customer Feedback in the Hospitality Industry
The best way of taking customer feedback is by asking your customers. And, this can easily be achieved through surveys. With an effective survey, organisations can obtain insights into the following.
1. Service
Service is the most crucial factor in the hospitality industry. Customers pay for the service and they expect the best. With the help of customer feedback surveys, hotels, restaurants resorts, etc. can get insight into the quality of their service and what the customers expect from them. A mobile based survey app gives real-time insights on the feedbacks received and there are many other reasons to switch to paperless way of surveys.
2. Quality
Taking feedback from guests about the quality of food, or ambience is also very important. Some customers might like the food but they find the ambience very loud or unpleasing. They might not return to the same place. With guest feedback, hotels and restaurants can ensure that their quality is on par with the customer's expectations.
3. Improvements
There is always a scope for improvements when it comes to your services. Different people visiting you might have a different level of perception regarding your services. It's important to always ask them about this. The best way you might think is to talk to them, but what's even better is to leverage the power of feedback app where you can have all the words of your guests at one place and later analyse it on your computer, mobile or tablet. This digital way cuts the dependency on paper feedback which are not only tedious to manage but can also give you inaccurate results.
4. Immediate Damage Control
Every business wants to give the guests their best experience but sometimes due to some or the other reasons a guest might become unhappy and could rate your business a down-thumb. Survey Apps like GoSurvey has a response-based notification feature which notifies the owner or the manager about the negative feedback received thus providing the business owner or the manager to reach out to the issues faced by the guest, solve them and make their experience a happy one.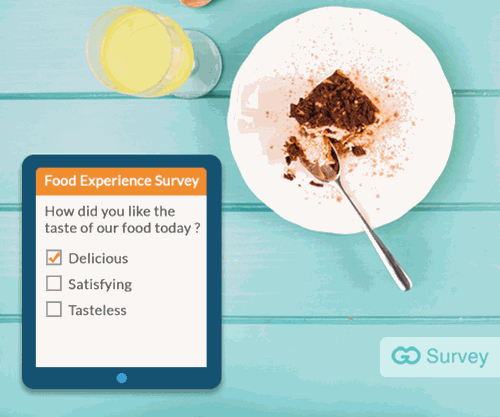 A happy and satisfied customer is bound to come back and stay loyal to the brand. Hence, taking customer feedback is not the only step that is important. But, implementing this feedback into business strategies is highly crucial to beat competitors and grow in the industry. 
Surveys can also be used for internal monitoring purposes. Let's look at how this can be done.
Use of Surveys for Internal Business Analytics
It is essential for large multi-chained hotels and restaurant to maintain their quality standards across all chains. Surveys can easily keep track of this. They can be used to monitor which location is doing more business and which location is facing issues. This insight profoundly helps organisations to plan marketing strategies and work on making improvements required to reach high-quality standards. 
Hence, making the right use of surveys can make a big difference in establishing your company's name in the hospitality industry. GoSurvey is your best solution partner in this matter. We have catered to multiple organisations across various industries, especially the hospitality industry. We understand your needs and customize the right surveys that help in obtaining appropriate customer feedback that can be used to make business strategies. GoSurvey bridges the gap between customers and companies helping them climb the ladder to success.