We constantly talk about the importance of Market research for all the industries, but what exactly do we mean by 'Market research'. Let's take a look at the what, why and how of Market Research.
What is Market Research?

In simple terms, it is the process of collecting and analyzing data keeping in mind some set of criteria that varies for different industries, depending on their product or service. This data can be qualitative or quantitative.
Why do we need Market Research?

In today's era, market trends keeps changing at a fast rate leading to a constant change in data. It is essential for a company to keep a close eye on this constant shift. This data answers some important and key questions for the business by providing an evaluation of their target audience. It also gives an in-depth knowledge about their competitors, helping them in making any strategic decisions. Market research helps you know your existing and new customers, their demography, their likes and dislikes, etc.
The 'How' of Market Research?
Some of the methods of market research are surveys, interviews, discussions, etc. However, the most effective method of gathering data is through surveys. Back in the days, conducting a survey took a lot of paperwork which was difficult to maintain. And, this would often result in inaccurate data collection. Now, with the immense technological progress we see around us, Survey Apps for market research have made life easier for researchers. Let's look at the benefits of using survey apps.
Why are Survey Apps the right tool for Market Research?
1. Easy access:
Survey apps are installed in phones or tablets that can be easily carried around by surveyors. The customers can directly download apps in their phone and take surveys, depending on the kind of market research needed by the company. Some years back, Surveyors had to carry a big bunch of papers to conduct surveys, which was later transferred into computer systems. This added on to more manual work that might lead to errors resulting in inaccurate data and reports. However, with survey apps, everything can be made available on the tip of your fingers. All the work is automated by the app that reduces errors and pulls out accurate reports.
2. Enables location based targeting:

Some industries require location based data to build up regional marketing strategies. With GPS location facility, survey apps can track location of the customers or surveyors and generate area specific reports. For example, Survey apps can generate the number of customers using your product in a specific state. Survey Apps can easily filter the data and provide accurate numbers that help in making strategic decisions. These apps also help you locate your surveyors in real-time.
3. Upload pictures and videos:

Some surveys demand pictures or videos as an additional input to verify the authenticity of the data. Survey Apps enable surveyors to take pictures and videos as all tablets and phones come with cameras. Before technology made Survey Apps possible, surveyors had to carry cameras, take pictures and link them to rest of the data adding more time and work. It would often result in inaccurate linking due to the amount of manual work required. Survey Apps automate this process, and links all the data in one place. It's not only helpful for the surveyors, but also for the customers. They can directly upload their videos and pictures to give their feedback on the Survey apps.
4. Offline data collection:

As per statistics by IAMAI, growth rate of internet penetration in India is very slow. Even today, there are many regions which do not have internet connections, especial rural areas.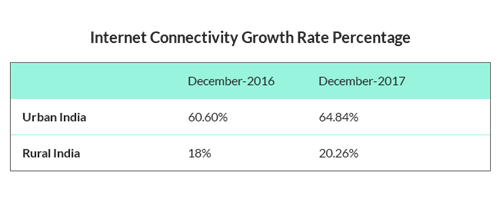 Also, the areas that have internet might experience fluctuation in connectivity, speed, etc. This might hamper the process and cause an unnecessary delay. Customers tend to lose interest in giving feedback on slow systems. Some survey apps enable surveyors to collect data offline, without depending on internet connectivity. This makes the survey fast and accurate as the app enables them to save all the data offline without an internet connection.
5. Reports on your finger tips:

After gathering all the data, Survey Apps collate them and generate accurate real-time reports. It can be further divided into time-based reports or location based reports. All the data can be stored and analysed as per your requirement through the app. It also enables to streamline reports as per your required demographics.
Survey Applications are the best method for Market Research. They are hassle free and helps you collect accurate data for your business.
GoSurvey expertise as an offline survey app has catered numerous clients in the market research across various industries, helping them achieve their goals of Accurate Data. GoSurvey customizes the right survey app for your business and provides features that get your marketing strategies on the path to success.