During the last three years, the Indian Aviation Industry has emerged to be one of the fastest growing industries in the world. Driven by factors like low-cost carriers, modern airports, FDI, etc. India has taken the third position in the civil aviation market. There is a constant growth in regional connectivity that has been observed over the years. In the coming decade or more, it is expected to be the largest in the whole world.
The Growth of the Aviation Industry
The industry has witnessed a drastic growth of 18.5 per cent in passenger traffic over the last year. It was recorded at 223.62 million in FY16 that boosted to 264.97 million in FY 2017. With increasing income levels of customers and low-cost aviation, tickets are becoming more affordable day by day. Customers prefer air travel as it is a faster mode of travel compared to the other mediums.
Following is a graph that shows the increase in passenger traffic.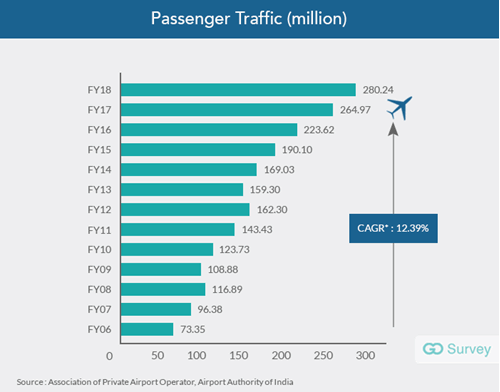 Similarly, the aviation industry is also seeing a drastic growth in freight traffic. In FY06-17, domestic freight traffic saw an increase of 7.95 per cent, while international freight traffic grew at 6.58 percent during the same period. In FY17, domestic freight traffic transported 1,123.18 million tonnes, while international division was at 1,855.06 million tonnes. It is expected to grow a lot more in the coming decade.
Following is a graph of the growth observed in freight traffic: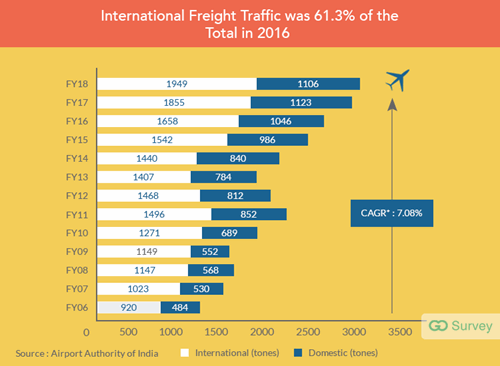 Not only is the Indian Aviation industry seeing growth, but the global industry is also experiencing an increase in air traffic. Statistics shows that annual growth in global air traffic passenger demand from 2005 to 2018 has risen significantly.
However, growth in the industry also witnesses an increase in the number of airlines. There is immense competition among them to become the leader in the industry. With the same technology in jets, what makes them different from their competitors?
How do Airlines Stand Out from their Competitors?
The customer experience purely drives the aviation industry and an increase in brand loyalty. If a customer has a bad travel experience, they will not prefer to travel again with the same airline. Similarly, a happy customer is bound to return and be loyal to the airline. How can airlines companies improve customer experience?
It is crucial for any airline company to ensure their customers are well assisted before, during and after their travel. Who wouldn't like a personal assistant always? With mobile technology, all this can be made possible. Companies can get in touch with their passengers and get their feedback at all stages of travel through travel surveys. This feedback helps the airlines make strategies for improving in various their service as well as other marketing strategies. This can be easily achieved through a mobile app that integrates all the data in one place. Let's see how this can be established.
1. Before Flight
Before flights, while customer wait to board, airlines can provide surveys to get their feedback on booking experience. What websites they use for bookings, if their booking experience was smooth and hassle-free, if they got the seats they wanted, if they are travelling for personal or business reasons, if they prefer a business or economy class, etc. This will give an insight to airlines about their customers flying patterns, whether they prefer sites that provide discounts or use the company's website for booking, etc.
Customers are more likely to take surveys during their waiting time than after the travel.
2. During Layovers
When customers switch flights and have more time to board their next flight, airlines can take surveys for their layover experience. This includes their experience of the first flight, the facilities provided for the layover like food, stay or lounges, etc. Feedback from unsatisfied customers is always a bonus for airlines as it gives them the scope of improvement. Customers are more likely to take surveys during layovers as they might have free time and would be willing to provide feedback.
3. During Journeys
Perhaps the best time to engage with customers is in mid-air. Crews and Airline staffs can leverage the leisure time in taking surveys from the travellers and seek feedback on their in-flight experience like seating comfort, infotainment, Crew etiquette and knowing what more does the customers would love to have that enhances their in-flight experience. These surveys might also help the companies in identifying the shortcomings immediately and improve the experience in future. Now you might be wondering how a mid-air survey is going to work without an internet connection? Don't worry, Offline survey app is the solution which helps you collect feedback without the need of internet.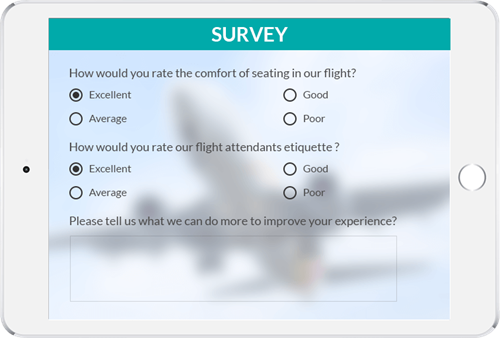 4. After Landing
After their journey, surveys of the overall experience can be provided by airlines. How was the in-flight service, food quality, did customers have trouble getting their baggage, will they travel with the same airlines again, how often they travel, etc. are some of the questions that can be asked to customers.

With all this data, airlines get an insight into the customer experience, feedback of customers, their frequent flyers and loyal customers. Surveys are very essential in all the stages.
GoSurvey has catered to customers across various industries, helping them in improving customer experience through effective surveys. It has also catered to the aviation industry by making personalised surveys and help in improving customer experience.